Markets and Politics. Private interests and public authority (18th-20th centuries), Christina Agriantoni, Maria Christina Chatziioannou, Leda Papastefanaki (eds.)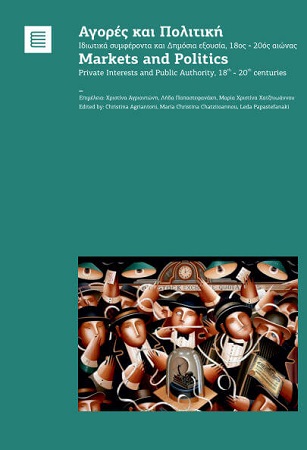 The collective e-volume Markets and Politics. Private interests and public authority (18th-20th centuries), edited by Christina Agriantoni, Maria Christina Chatziioannou and Leda Papastefanaki, includes a selection of papers presented at the 2nd International Economic and Social History Conference, that was co-organized by the Greek Economic History Association and the Department of History, Archaeology and Social Anthropology of the University of Thessaly (Volos, 10-12 February 2012). The volume explores the multiple aspects of the relationship between economy and politics from a historical perspective and promotes the connection, or reconnection, of Economic and Political History. This is a topical issue as there is a widespread impression that the forces and compulsions of the market economy define political choices. At different times and in different regimes and countries, from the 18th to the 20th century, the authors investigate the mechanisms that shape the relations between economy and politics: theories and institutions that define the cultural and regulatory framework of the economy, state interventions in markets, contacts and affinities developed between politicians and businessmen, the impact of societal challenges on economy and politics. The papers contribute to a better understanding of complex historical processes that either balance or subvert the relations between political and economic power.
Authors: Christina Agriantoni, Michel Fabrice Akono Abina, Giorgos Argitis, Ilias Bissias, Yannis Caloghirou, Maria Christina Chatziioannou, Christos Desyllas, Spyros Dimanopoulos, Dimitris Dimitropoulos, Stratos N. Dordanas, Angelos A. Hotzides, Giorgos Ioannidis, Polykarpos Karamouzis, Athanasios Koratzanis, Sophia Laiou, Vassilis G. Manousakis, Giulio Mellinatο, Nicolas A. Métaxidés, Angeliki Nikolaou, Katerina Papakonstantinou, Leda Papastefanaki, Hugo Silveira Pereira, Nikos Potamianos, Kostas Raptis, Nicholas J. Theocarakis, Christos Tsakas.
Open access in http://epublishing.ekt.gr/en/15372